People & Culture Coordinator - Part time - 12 months
Location:

North Melbourne, Victoria, Australia
Posted:

5th September 2018
Advertiser:

Animals Australia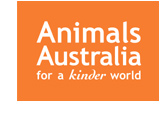 Rare opportunity with leading animal protection NFP
Supportive, fun, flexible workplace
Bring your dog to work with you!
Part time (0.6-0.8), fixed term 12 months
About Us
Animals Australia works tirelessly to protect the most abused and defenceless animals in our society. Our award winning national campaigns and unique investigative work have awakened millions to the suffering of animals in factory farms, the live animal export trade and the greyhound racing industry, while forcing unprecedented industry and government reform. Each victory for animals is underpinned by a strong and proactive supporter base.
The Role
Working closely with the People & Culture (P&C) Manager, the P&C Coordinator will help provide exceptional support across the generalist P&C function. The P&C team are responsible for continually driving people initiatives that enhance this dynamic workplace.
Skills Required:
Knowledgeable – Your studies and/or experience in this type of role mean that you can comfortably interpret relevant legislation. You are pragmatic and reasonable, enabling you to adeptly provide advice, apply policy, develop processes and systems, etc that maintain compliance while being reasonable and meeting organisational needs.
Flexible and adaptable - You're agile and equally comfortable working independently or collaboratively within a small, diverse and extremely busy team.
Customer service – You're able to quickly understand and respond to stakeholder needs. You realise how important this role is in supporting the organisation to achieve the best outcomes for animals. You don't wait for someone else to solve a problem, as soon as you see an issue you work out a way to overcome it.
Computer skills –You're familiar with HRIS and payroll software, and are confident enough to quickly learn new systems.
What we can offer you:
Aside from the opportunity to bring about real change for animals, we offer:
Salary of $50-60,000 per annum plus superannuation (pro rata for part time)
Generous leave provisions including Companion Animal Carer's and Compassionate leave
Flexibility!
A fun, supportive, and hardworking environment where we really do value our people
Discounted private health insurance
Employee Assistance Program
Funky, fantastic, animal-friendly office in very convenient location
And of course, the opportunity to create a kinder world for ALL ☺
How to apply
For more information on the role and details on how to apply, please go to https://www.animalsaustralia.org/about/jobs.php
Applications close Thursday 20 September 2018