Recruitment Coordinator - Full or Part Time
Location:

Melbourne CBD, Victoria, Australia
Posted:

14th September 2018
Advertiser:

Converge International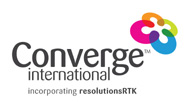 Full-time or part-time (min 3 days per week)
Join a collaborative, inclusive HR team
Suits HR Administrator with a flair for recruitment
Prime CBD location
Seeking an energetic, creative and commercially-savvy Recruitment Coordinator to join our team
Converge International is a wholly Australian owned organisation with the wellbeing of people and their workplaces at the heart of all we do. We are leader in providing health & wellbeing and people risk management solutions.
About you
We are seeking an enthusiastic Recruitment Coordinator with at least two years' HR experience to join our friendly People Culture and Learning team. You will enjoy the working in a fast-paced environment and be customer focused in your approach. Your strengths are your ability to multi-task, prioritise competing demands and strong attention to detail. Your adaptability, capacity to learn new systems and processes, and willingness to develop your skills will make you a success in this role.
You will have solid knowledge of the recruitment process and have experience in all aspects of recruitment administration. Your commitment to confidentiality is a must.
Reporting to the General Manager People, Culture and Learning you will work collaboratively with the HR team to manage high volumes of recruitment in a proactive and timely manner to support our growth and capability.
Duties include:
Delivering end-to-end recruitment and selection using contemporary tools such as LinkedIn
Recruiting the right mix of commercially affordable resources in the right locations at the right time
Preparing contracts and employment letters
Responding to tender resourcing requests
Actioning resourcing requests by identifying suitable resources
Monitoring, coordinating and responding to recruitment queries from stakeholders
Providing administrative support to the PC&L team and stakeholders as required, including HR project support
Experience required:
Proven end-to-end recruitment experience and knowledge of behavioural interviewing
Experience in using LinkedIn Recruiter and Talent Search
Strong HR administrative background
Experience in managing high volumes in a fast-paced environment with a positive attitude
Ability to problem solve with the big picture in mind
Flexible attitude and comfort with ambiguity
Strong organisational skills
Strong verbal and written communication skills
Allied health recruitment/HR experience would be desirable. A HR qualification and a genuine interest in HR is also a must.
For more information visit our website www.convergeinternational.com.au
Please submit your resume and covering letter to Christine Koutsimanis, via people@convergeintl.com.au